Hats are a personal preference, with some men wearing them and some choosing not to.
Whether you are any nationality or from any country, you will be able to find a hat that will suit you.

As different styles of hats suit different faces, and different hats suit different clothes worn.
Any man can find a hat that looks good on them, it is dependent on a few different factors that will be answered in the below questions.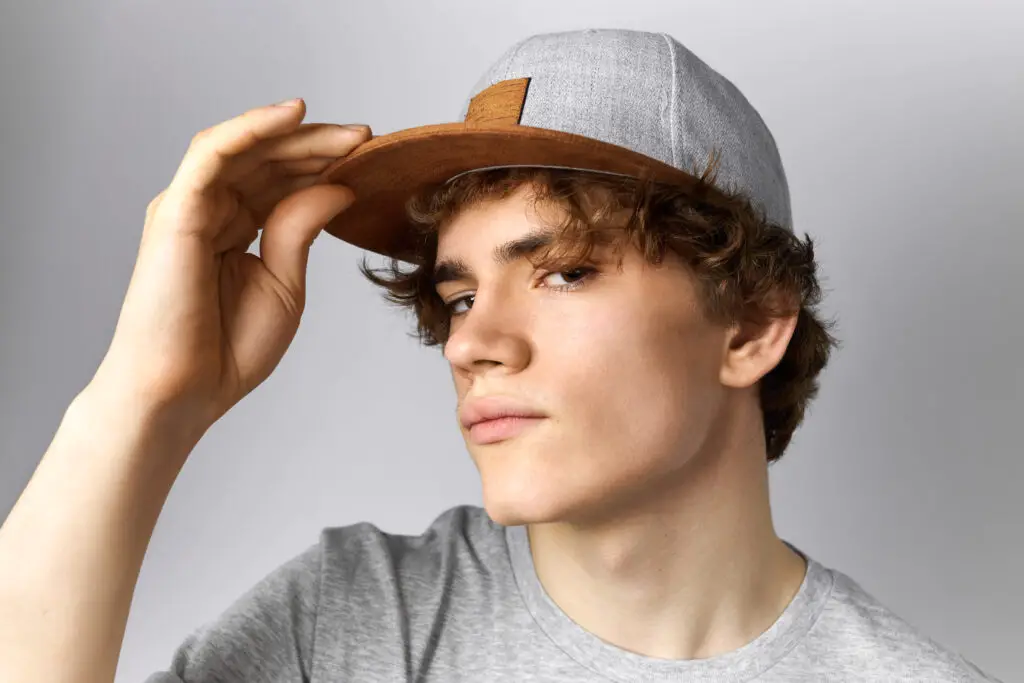 Do hats look good on guys ?
To answer this question yes hats look really good on most guys around the world. (Some shaped faces though do look better in some styles than others).
So depending on your dress sense whether it be casual or dressy, a hat will look good if you give it some thought.
Hats really do make a outfit, so whether you are wearing a baseball cap, a fedora, flatcap, Panama or beanie, it really can be a addition to a pair of jeans, shirt or suit.
As long as the colours and and style of hat work and or match the clothing you are wearing it will be appealing.
Please note : Most women love a man with sense of style wearing a hat!
the best types of hats for a guy ?
Hunting for your next hat is like trying on a new shirt. It has to look good and fit well.
Below is a chart of types of faces and what type of hat suits each face. Your shape face will greatly determine the type of hat you should buy.
Round Face :

Any round face should wear a type of hat is angular in shape, this includes a fedora or a wide brim fedora.

A beanie pulled down over your forehead would also be suitable.
Long Face :

When you have a long face you need to counter this with a hat that is wide E.g a cowboy hat, wide brim Panama.

A beanie would not suit a long face (so avoid wearing something that is tight over your face).
Heart Shape Face :

Anyone with a heart shaped face suits caps in general, whether this is a baseball cap, flat cap, baker boy cap anything that is fitted with a peak looks great.
A heart shape face also suits a cowboy hat, and any felt/straw hat that that has a brim.
Square Jaw Face :

This type of face has very strong and bold features (being the jawline), so to avoid any exaggeration it is best to choose a hat that is a wide brim (Panama, felt hat).
Avoiding a beanie as it will make your jawline stand out more.
Oval Face :

If you have a Oval face, you are very fortunate as this type of face suits all hats, being a cap of any kind, wide brim hat, fedora and beanie.
Diamond Shape Face :

A diamond shape face has a larger forehead and a narrower jawline. A short brim fedora or porkpie hat suits this type of face really well.
Does a cap make your face look better ?
Many men around the world wear baseball caps every day as a staple of there wardrobe as this is a casual look that is worn most days (same as putting on a pair of jeans).
A way your face will appear better with a cap is by the shading of the brim.
This shading may cover any dark spots or red blotches on your face, or any dark rings under your eyes. This will make you appear more attractive in the face.
Wearing a baseball cap will also cover your hair so the hat stops your hair from showing.
(stopping any bad hair hairstyle from being exposed).
Apart from this, if you have a issue with balding the hat stops any bald spots from being visible on your head.
the best types of hats for a guy ?
In the world there are so many different styles of hats on the market to choose from.
Below are different events and places that are appropriate to wear a hat, so that you know what is the best for you to wear out.
Beach :

Baseball Cap, Panama Straw Hat, Bucket Hat
Everyday :

Baseball Cap, Fedora, Panama Straw Hat, Bucket Hat, Flat Cap, Baker Boy Cap, Cowboy Hat, Pork Pie, beanie.
Clubbing and Bars :

Fedora, Panama, Pork Pie
Wedding :

Panama Hat, Fedora, Pork Pie, Flat Cap
Races : ( Kentucky Derby; Melbourne Cup; Ascot )

Top Hat, Fedora, Pork Pie, Bowler
What Hat Types make a guy look older ?
Different hats on different men can and do make the person look more mature (or older).

This is usually to do with the classic look or nature of the style.
If you are wanting to achieve a more mature look below are a list of hats that will give you just that-
Panama Hat (wide brim) :

A very classy, straw hat, worn by celebrities that include Johnny Depp that will give you that classic 1950's style.
Fedora :

A 1920's style that was worn at that time as a every day hat. This style will give you a mature appearance.
Flat Cap/Baker Boy Cap :

This type of cap is hundreds of years old and the origin behind it was from the United Kingdom.

A common term for the flat cap is a "dad's cap" as it was something our dad's and grand dad's wore.
wearing a cap backwards Is It Ok ?
Baseball caps are normally worn with the bill at the front, but many guys wear it backwards.
Like anything in life it is a personal preference which way you wear it. Below are two reasons guys wear it backwards:
Young and Hip :

Baseball Caps have been worn this way since the 80's and also was super popular in the 90's worn by celebrities including Will Smith.
Today it is worn by men this way that like to look and feel young, just liking the look and feel of the hat.

Actually a lot of girls like a baseball cap backwards.
Gay or Bi Community :

In some communities it is known that a baseball cap worn backwards symbolises a preferred sexual act.
What type of guy wears a baseball cap ?
Wearing a baseball cap says a lot about your personality.
As the baseball cap is the most popular hat being 40 million of them sold in United States every year, it says that many different sorts of people wear them.
Below are a list of the types of people that wear a baseball cap (really includes a huge chunk of the population)
Sportsmen :

Men that love sports including golf, surfing, football, soccer, basketball and tennis.

The most popular hat for sport is the baseball cap.

Tradesman :

For work a baseball cap can be worn indoors and outdoors in industries including Truck driving, gardening, etc.
Teenagers Kids :

Kids and teenagers wear baseball caps that includes favourite sporting teams e.g Chicago Bulls.
Outdoorsmen :

Men that enjoy the outdoors and hunting also wear baseball caps.
Do flat caps look attractive on guys ?
Flat caps (or in England they call them cheesecutters) are very attractive on men.
If you are wanting a classic looking hat then the flat cap is a excellent choice. It originated in the United Kingdom hundreds of years ago, and can be found in materials that include leather, cotton and tweed fabrics.
As well as being a fashion item the flat cap is a very practical hat as it holds and locks the heat in.

So not only can you look good but be warm and snug in winter time.
The flat cap can be worn casually or dressed up.

This original British style hat is really acceptable and more commonly worn in all countries, as we now live in 21st century where all fashions are worn.