If you are considering a Bow Tie for the first time or are wondering if it is suitable for a particular event or gathering you are attending, then please read on.
Is a Bow Tie considered more formal than a regular tie?
A bow tie is an alternative to a regular tie and is really equal in formality in most cases.
You will find though that in some places and the type of person and personality you are, will totally depend on whether a bow tie is suitable for that certain occasion.
Here is some information on things you may want to consider: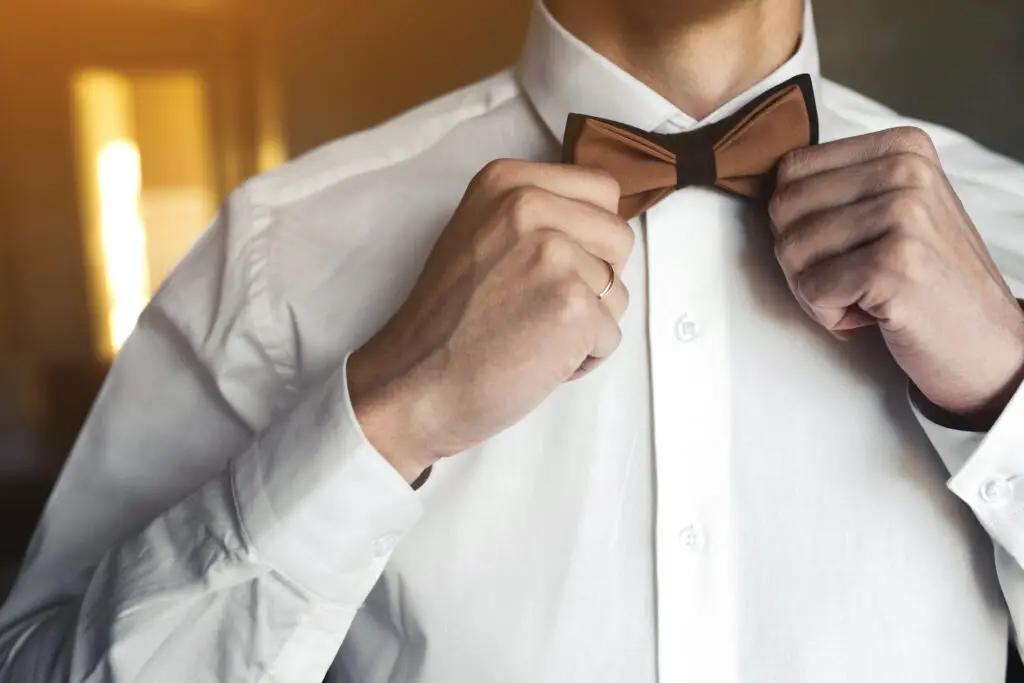 Bow Ties & Attending A Funeral
If you are going to be attending a funeral it is wise to know what you should or shouldn't do, as it is about paying your respects to the person who passed away.
Below are some crucial questions answered.
Is It Appropriate To Wear A Bow Tie To A Funeral ?

When attending any sort of funeral most people dress very conservatively E.g Men wearing black, pants, white shirt, black shoes with a black tie.
The normal black tie is the neck tie as this is considered very conservative.
The Bow tie along with the neck tie are both considered suitable for a funeral, as not wearing a tie at all can be perceived as disrespectful to the family.
What Colour Bow Tie Should I Wear To A Funeral ?

When choosing a colour you should remember that most people wear black to a funeral.
So wearing a loud or bright colour will really make you stand out from the group.
Many Bow Ties you see in stores or online are bright with patterns or designs so these are definitely not something you would want to wear to a funeral.
With this in mind a more neutral colour would suit a black suit, so wearing a Bow Tie with a colour such as Navy blue, Maroon, Dark Brown or Olive Green would also be acceptable for a funeral.
Is a Bow Tie Suitable for a Christian or Jewish Funeral ?

If you are attending a Christian or Jewish funeral most people wear sombre colours which means blacks, browns, navy colours in suits.
A more suitable Bow Tie would be a non flashy colour for this type of funeral being Black, Navy Blue, Maroon, Dark Brown or Olive Green.
Is A Bow Tie Suitable For A Buddhist Funeral ?

When you attend a Buddhist funeral the family of the deceased wear white.
It is acceptable for mourners to wear dark clothing, and a black tie would be allowable, and this would include a black bow tie.

What is really frowned apon is a bright red colour especially in a tie.
Is A Bow Tie Suitable For A Muslim Funeral ?

When attending any Muslim Funeral, I would advise not to wear a bow tie, as it is not the traditional custom for muslim men to wear.
The traditional custom for a Muslim man for a funeral setting is wearing a modest pants and shirt without any sort of tie.
Bow Ties And Attending A Wedding
If you are getting married or attending a wedding and are considering wearing a Bow Tie, it is a great idea! Bow Ties are dressy, classy and depending on what colour you choose are lots of fun!
Should The Groom Wear A Bow Tie ?

When getting married for the first time or if you have been married previously and are looking for that perfect outfit for your special day.

A bow tie is a perfect solution for any wedding outfit which includes-
Wearing A Tuxedo :

A Tuxedo normally includes satin details which are satin faced lapels/buttons and satin stripe down the pant line. ( Alternative Tuxedos can be have lapels in velvet or silk also )
If you have chosen this normal type of Tuxedo, a matching satin coloured Bow Tie to the coloured satin lapel would be a suitable look.

Eg : if you had a white coloured suit with a black satin lapel/buttons then a black coloured bow tie would look great.
Or alternatively if your partner has a particular colour dress/suit you may want to match your bow tie to your partners outfit.
Eg : the dress/suit your partner is wearing is white than you may want to choose a white coloured bow tie to link and match what they are wearing.
Wearing A Suit :

If you are deciding on a suit for your wedding day the choices of fabrics vary from wool, cotton, silk to linen.

A bow tie to match the fabric would be a really appealing and would match nicely.
Depending on what sort of person you are will depend on the colour choices you choose, if you are more bold in personality a brighter colour bow tie in the same fabric as your suit.
Eg : if you had a navy blue linen suit with a white shirt, matched with a mustard linen bow tie.
Should The Groomsmen Wear Bow Ties ?

It is a rule that in a normal circumstance the wedding party of the groomsmen should match the groom in dress for the wedding.
But really it is up to each individual groom, and I am sure he will give you an idea of what to wear!
Most groomsmen usually wear the same coloured suits, with matching ties, in some cases grooms like their groomsmen wearing matching suspenders also.
Every wedding is different and you may have a groom who likes his wedding party to have slight differences in dress e.g different bow ties.
Should You Wear A Bow Tie As A Wedding Guest ?

If you have been invited as a guest to a wedding, the first question you need to ask yourself is what type of wedding is it?
Formal Wedding :

If you have been invited to a wedding and you know that it is a formal event (you usually will know this by the type of venue on the invitation).
Then you should really make an effort with your dress code.

A suit and tie (a bow tie is totally fine), a blazer and polo shirt would not be acceptable for this type of wedding.
Casual Wedding :

When you are aware that the wedding you are attending is "casual" it would be suitable to wear a plain shirt E.g white shirt with a blazer and pants.
Depending on your personality would depend on whether you decide on a tie or not, but usually these types of weddings a tie of any kind is not needed.
Bow Ties And Attending An Interview
Attending an Interview for a job or new workplace is a nerve wracking and suspenseful experience.
What you do wear for an interview is important as it gives the interviewer (or Boss) an impression on what you are like as a person, by how you present yourself to them on the day.
Are Bow Ties Appropriate For An Interview ?

When you turn up on the day for an interview, it is really advised to look your best.
Whether a Bow Tie is appropriate is really dependant on the type of job you are going for e.g an office position is different to an outdoor gardening position.
Office Work Or Professional Positions :

If you are relaxed wearing a shirt/slacks/jacket to an interview, wearing a bow tie is suitable, if you are comfortable to do so.
Any professional would appreciate that you have made the effort with your clothing.
A Bow tie would be recommended in neutral colours being plain black, brown or grey, with no over the top colours worn.
Manual Labour Jobs :

For positions such as construction or factory jobs the attire is more casual.
So wearing a bow tie probably wouldn't be suitable, as your clothing choice would be more casual e.g polo shirt and casual pants.
What Does A Bow Tie Say About Your Personality ?

Wearing a bow tie says a lot about you as a person. Bow Tie's have been worn for hundreds of years at all different events and functions.
So many different sorts of personalities wear a tie for their class and style.
When you wear a bow tie it shows that you have self confidence, with a positive attitude to life and maybe a little daring depending on the colour and size of the bow tie.
Is A Black Tie The Best Choice For An Interview ?

It is definitely better to be overdressed than underdressed for a interview, and wearing a Tie is a great idea.
Wearing black in a tie is professional and is completely acceptable in the corporate world.
Bow Ties And Business Attire
When you are in business or work in the corporate world it is extremely important to look sharp but also dress appropriately at different times.
When you go to an important business meeting with a new client or an existing one, you want to consider is it a casual meeting or a professional meeting?
Is a Bow Tie suitable for any of these meetings? Below are the two different types of meetings to consider:
Are Bow Ties Considered Business Professional ?

If you work in the corporate world, it is expected that you wear a shirt and tie and or a suit.

Wearing a bow tie is one hundred percent acceptable in this environment and is expected.
As a business professional you need to behave in the way the industry expects.
If you have a business meeting or corporate meeting all parties involved will be wearing a suit and tie, so then should you also.
A bow tie would need to fit into your business professional dress code. If you are wearing a grey suit for instance a dark grey or black tie would fine.
Are Bow Ties Considered Business Casual ?

A business casual meeting means that the dress code is more relaxed than a professional one.
If you are aware that the meeting or conference is "casual" than wearing a tie is optional but not out of the question.
Generally speaking, a casual business meeting involves wearing chinos, more casual shirts, brogues, vests, v neck sweaters and ties.
It gives you more of a range of different types of clothes to wear than just a typical suit.
Bow Ties And Going To Court
Going to court is a big deal and for many people a stressful time.
So looking the part in your dress sense is a important part to success of the end result of the day.

Wearing the right clothes (with a tie) is something to keep in mind.
We live in a world where people judge you on how you look and your appearance, so if you make an effort on the day, it could be greatly beneficial to your outcome.
Here are some questions to consider about before your court appearance:
Can You Wear A Bow Tie To Court ?

When you attend court for any reason it is advisable to dress as smart and well dressed as you can.

To be conservative with a shirt, slacks and tie would be a good idea.
If you are comfortable with a bow tie only wear a neutral colour being black, brown, grey or navy blue.
If you wore this with a white shirt and black pants would look appropriate for your court appearance.
Do Lawyers Wear Bow Ties ?

Many Lawyers and professionals wear suits to court. It is becoming more common lawyers to wear Bow Ties as a change to a neck tie.
If you are expecting to see your lawyer to wear a Bow tie it is really possible.

As many lawyers want to stand out from the crowd getting away from the typical pin stripe suit.