Curly hair is very beautiful to look at, but can be hard to manage at times.

If you have wondered whether your curly hair will work with wearing a hat, then there are a few things you will need to ask yourself before you jump in and buy a new hat.

Below I have compiled a list of questions you should consider and read about before working out whether a hat will be a suitable item for your wardrobe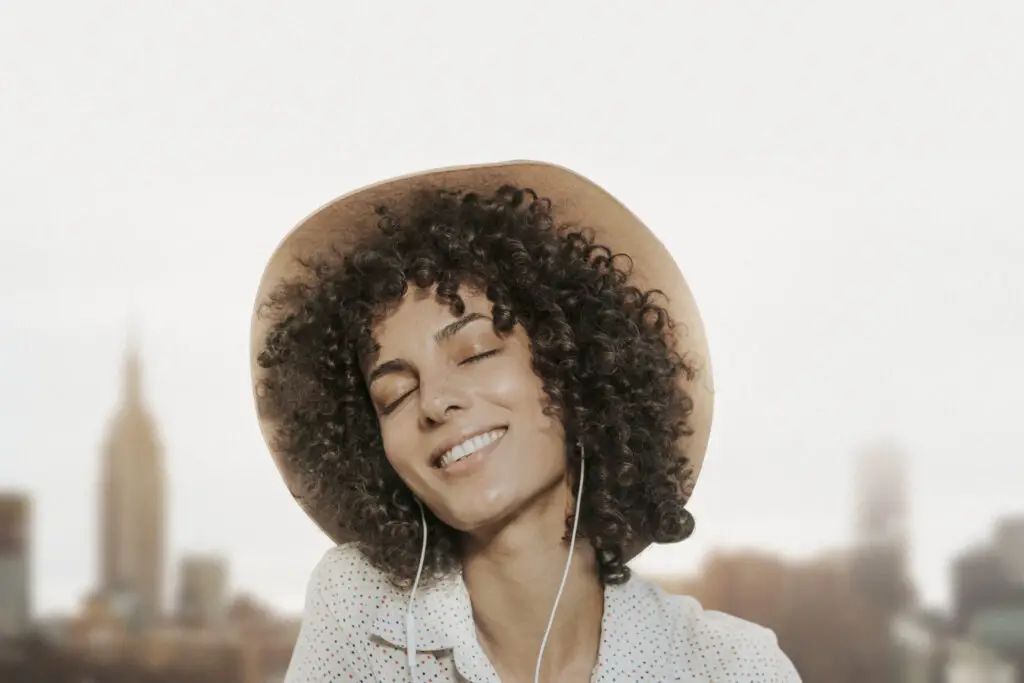 Are hats bad for curly hair?
Hats are indeed stylish and serve some good purposes (protection from sun and rain).
But since some hats are made in really low quality fabrics, those particular hats may not be good for naturally curly hair.
Curly hair needs extra care even during normal days.
Your natural curls need even more protection when you keep something on them for a long time (normally people will wear a hat for 1-5 hours at a time).
Wearing some hats can damage your hair.

The crown part of your head normally gets the most damage.

But with regular care and a high-quality lined hat, you can stop the hair from flattening.
If you are tempted to buy a beautiful hat this season, make sure to get the ones that look great with curly hair.
Do not forget to double-check the material.
If the material is hard or stiff that type of fabric can easily damage your hair e.g Leather or synthetic material. Leave it behind and look for a different fabric instead.
Please Note : The best type of fabric is wool, fur felt or fine straw.
How do people with curly hair wear hats?
Keeping the hair moisturized and frizz controlled is the secret to the best hairstyle with curles (before putting your hat on).
When your hair is moisturized and healthy, your curl looks more natural. Natural oils like almond and coconut are the best moisturizers for curly hair.

Applying this method before placing your hat on your head will protect your hair during the day.
Please Note : Wearing a hat with wet hair can be disastrous. Always wait for your hair to dry before placing a hat on.
It is advised that placing a moisturiser on your hair (a hair balm is great) first before wearing a hat out.

If you like wearing your hair out applying a conditioner in the shower will also give you shiner curls. (please refer to picture).
Styling curly hair with a hat can be quite tricky, but when you are able to figure out the right hairstyle for yourself, you can rock any look with any hat.
Below are 4 Ways you are able to style your hair wearing a hat:
Braid :

Braids are always the best option with hats. A single brain resting on one of your shoulders looks amazing with any type of hat.
Middle and Side Partition :

For a flawless, go-to look, try parting your hair either from the middle or from the side. Wear a hat and have a look at yourself in the mirror. There you go; a simple yet classy look with your favourite summer hat.
Sleek Bun :

A low bun with a stylish hat is the best combination. Since curly hair is difficult to manage, the bun will reduce the hassle of carrying a hat with curls. Be even more confident with your curls by styling your hat with a sleek bun.
Front Curls :

Start by making a low bun at the back. For the front, you have to take a row of your hair falling towards your face.
Pin them down so that they stay in place. Now wear your cap at the back of your head and pin it to your hair, so it does not fall down.
Hair falling towards the face at the front with a stylish hat at the back is my favorite summer look.
Please Note : When purchasing a new hat with curly hair, it is really advisable to buy a larger size, as the thickness of curly hair makes your head size larger.

A larger crown (inside the hat) is also better too, this will make the hat stay on your head.
How do you wear a baseball cap with curly hair?
Baseball caps are really easy to wear with curly hair. They normally go best with a high ponytail pulled back into the baseball cap.
This only works if there is an area in the back of the baseball cap (called the backstrap) where the pony tail fits through.
If you find that the baseball cap doesn't have a backstrap (and is straight fabric), then the best idea is to look at pinning your hair inside the baseball cap.
To complete this idea you must make sure the baseball cap is in a bigger size to accommodate your curly hair. You would then need to pin up the hair in place, and then place the cap on.
Another way to wear a baseball cap with your curly hair is just wear your hair out. Place some hair serum in (which will stop fizziness) and put the cap on.
What summer hats look good with curly hair?
Looking for something aesthetic yet protective this summer that also goes well with curly hair?
You definitely need to get a floppy sun hat. These hats look wonderful on females (with curly hair) and provide the best protection against the beating heat of summer.
These hats are made with straw material or felt that has brim wide enough to protect the face and neck from the sun.

The material is very lightweight and allows air circulation thus keeps you cool while walking in the sun.
These types of sun hats may or may not contain lining. It is best if you check to see if the hat has lining, this will be softer on your hair if it does.
Another type of summer hat that works for women with curly hair are baseball caps. These type of hats do give you protection, and are also very fashionable and stylish.
What sort of sun hats look good with curly hair?
You can definitely look stylish and protect yourself from the sun at the same time. There are plenty of sun hats that look fabulous with curly hair.
Make sure to know the purpose of the hat you are wearing. You should get a hat with a wider brim and darker color.

Dark color protects you from harmful UV rays.
Some hats come with built-in UV protection. You can scan the label of the hat to find out how well it protects from UV rays. UPF above 30 is just what you want.
Let us have a look at some amazing sun hats that rock with curly hair.
Panama Straw Hat :

Made in Equador, this is the best quality sun hat out there. Really light to wear as a summer hat and is made in Fedora style and also in a wide brim.
Wool Felt Sun Hat :

This type of hat is something you can wear in both summer and winter time. It will also give you that protection from the sun.
Baseball Cap :

A casual and easy to wear summer cap. Many that you buy are adjustable in size and is something you can wear in the sun or beach.