With so many options to buy your next tie being online and in store, it is always hard to know which one to choose from. From a bow tie, cravat or a necktie and the amount of designs out can be overwhelming for some people.
Here Is A Cost Of A Necktie:
Ties cost anywhere between $2.00 (if you want to make one) up to $300.00 for a designer tie. A average cost is between $25-$50 depending on the design and types of material.
In this article we are going to speak about all of the costs of ties including silk ties, where is the best place to buy them. And also how to go about making one if that is what you are wanting to have a go at.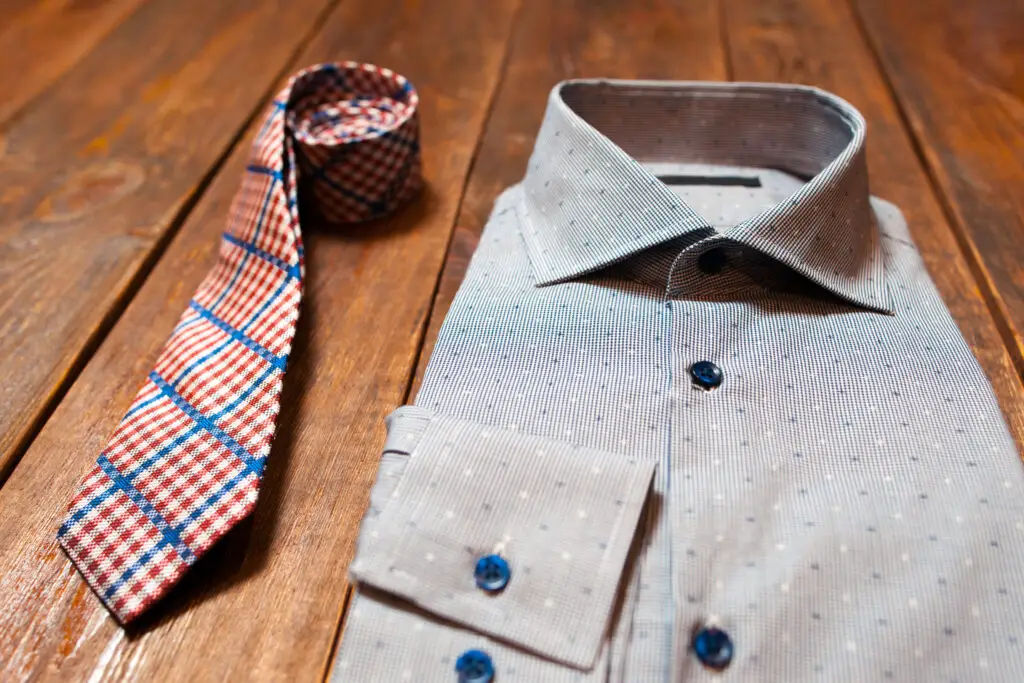 How much do neckties cost?
Neckties are a type of apparel that people wear on special occasions. They are also known as tie or cravat and they come in different styles, designs and colours.
The fabric used to make neckties is usually cotton and silk which makes them very light and comfortable while wearing them.
Generally speaking, most ties cost around $ 25 to $100. Depending on the material and design, a tie may cost more or less. For example, a cotton tie costs around $25 to $50 while a silk one can go up to $150.
What is interesting about neckties is that people do not have to wear them all the time so they use them for special occasions.
This is why some people view them as a luxury item. Despite this, neckties are very popular and there is a wide variety of designs and colours to choose from. So if you are looking for something special to wear on a special occasion, a necktie might be the perfect choice.
How much does a silk tie cost?
Silk ties are great for any kind of wearer.
Whether you are an average male looking to grace the office every morning or a stylish dresser looking for something more unique, there is almost certainly one perfect silk tie out there for you.
These ties tend to be high quality but also high price. Some can go as expensive as $300 when they are made of pure silk, though more often than not they are under $100.
Pure silk ties tend to be more high quality since they are easier to dye and will last longer.
Since these ties are so expensive, some brands offer the identical style in a different fabric for less cost.
For example, Dolce & Gabbana sells a silk tie for $130 while they offer the same style in a polyester blend for only $85.
So, if you are on a budget but still want the look and feel of a high-quality silk tie, a blended fabric might be the way to go. Just be sure to check the composition before purchasing, as some cheaper blends can feel and look a bit less luxurious.
At the end of the day, it's up to the individual to decide what is most important: quality or price. If you are looking for a tie that will last forever and boost your outfit's appearance, then shelling out for a pure silk option may be the right choice.
How much does it cost to make a tie?
The cost to make a tie can vary depending on the type of fabric used and the manufacturing process. However, on average, it costs about $2 to make a tie. This includes the cost of materials and labor.
There are a few different ways to make a tie. The most common way is to use a piece of fabric that is approximately 43 inches long and four inches wide.
The fabric is first cut into the shape of a triangle, then two other pieces are sewn to create the neck piece. Another way to make a tie is by cutting the fabric into strips that are 23 inches long and 2 1/2 inches wide. These strips are then sewn together to create a neck piece.
The type of fabric that is used also affects the cost to make a tie. Silk ties are more expensive to produce than cotton or polyester ties. This is because silk is a more expensive fabric and the manufacturing process is more labor-intensive.
Where to buy a tie?
A tie can be an important part of a man's outfit, helping to dress up the appearance of someone wearing it. The first thing you should know is that there are many different types of ties out there – from bow-ties to neck-ties and more. In addition, different types of clothing call for different styles.
There are a few different places you can go to buy ties. Department stores are always a good option, as they usually have a wide variety of styles to choose from. In addition, there are often stores specifically devoted to selling ties.

know what kind of ties you're looking for – such as a certain style or pattern – you can also do an online search to find different kinds of ties. Of course, there is no better resource than your local thrift store. Thrift stores often don't look like they have much to offer, but you'd be surprised at the variety of ties you can find there.
So, whether you're looking for a new tie to add to your collection or you need one for an upcoming event, take the time to find the right one. With so many different styles and options available, you're sure to find what you're looking for.
Where to buy a cheaper tie?
There are a few different ways to buy a cheaper tie. The first way is to buy a tie at a discount store such as Walmart or Target. The second way is to buy a tie online.
Ties can be bought for much cheaper online than they can in stores. The third way is to buy a used tie. Used ties can be bought at thrift stores or on websites that are dedicated to selling used ties.
The fourth way is to buy a tie wholesale online. Wholesale sites sell products in bulk quantities at lower prices, which includes ties.
Some people think that buying a tie online is risky because they don't know how it looks or fits. However, there are many websites that allow you to return ties if they don't fit or look the way you want. Buying a tie online is a great way to find unique ties that you can't find in stores.
If you are looking for a really cheap tie, try buying it at a discount store or online. However, if you are looking for a nicer tie that is still affordable, try buying it at a thrift store or online. Wholesale sites are the best place to buy really cheap ties. Just be sure to check the quality of the tie before you buy it.