Hats are all different in measurements and sizes. It can be hard to know where to start with the packing. Then there is also the issue of shipping a hat out to a customer or friend.
Here Is How To Ship A Hat:
If you have a E Commerce business and are selling hats then this article will explain in detail how to ship a hat and how to pack the hat to avoid transit damage.
Certain hats can be packed in envelopes and others have to be packed into boxes. It depends on what you are shipping and selling.
But there are a lot more important details below, so let's get started.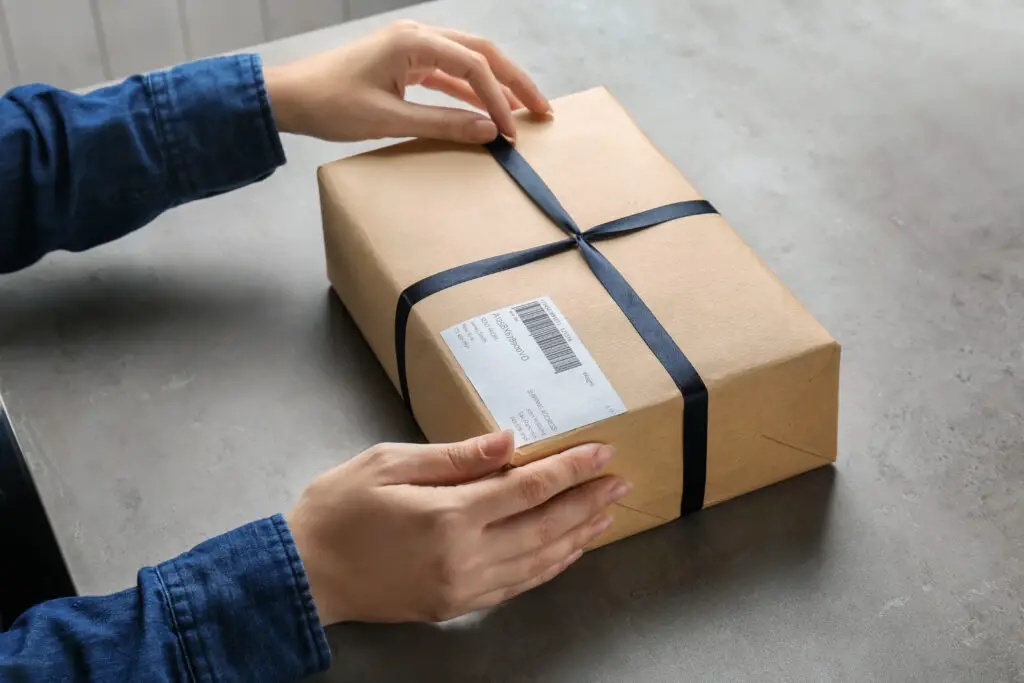 What is the best way to ship a hat?
Hats are very delicate pieces of clothing, so you don't want to risk one getting damaged in the mail when you ship it.
Luckily, there are plenty of ways to ship a hat without damaging it! It all depends on the type of hat that you are trying to ship.
For a small, flat hat, such as a beanie or a flat cap, not a lot of protection is required. You should wrap up the hat in tissue paper or another protective layer and place it in a small box.
This will keep it packaged up securely until it arrives.
For larger or more delicate hats, more protection is required. You should also use a gentle material like tissue paper to wrap the hat because it won't stain or tear the hat, and the hat will have a few layers separating it from the box.
Use a larger box to ensure that the hat is not crushed or bent in any way.
Never use newspaper to wrap up a hat when shipping it because it can cause stains on the material of your hat, especially if the material is light.
You can wash some hats to get stains out, but it is easier to avoid them by giving the hat a layer of protection before it arrives.
How do you send a hat through the mail?
You can send a hat through the mail the same as any package.
Once the hat is wrapped up and inside the box, seal the box up with tape, making sure that there are no gaps left open. To help keep it even safer, use a large marker pen to label the box as fragile.
Then, you send the hat through the mail as you would with any package. Pay for the postage and track your package until it has arrived at the intended destination.
So long as you have adequately wrapped up and labelled it, the hat will be in perfect condition when the package arrives.
How are hats delivered?
When you package and ship a hat yourself, it will be delivered by your mail service with other packages.
Prices depend on the delivery company that you choose to send the hat with, as well as the size of the package, its weight, and its destination.
Take UPS, for example. They have a great reputation for delivering packages in perfect condition. Their shipping rates vary depending on the size of the package and where you want it to go.
UPS have five flat rate options when it comes to packages.
An extra-small package (1-100 in3)starts as $8.80
small package (101-250 in3) starting a$11.50
medium package (251-650 in3) starting at $13.90
large package (651-1050in3) then starts at $18.40
extra-large (1051-1728in3) starts at $22.85
UPS estimates their medium sized packaging option to be the right size for a shoebox, with their large size then being right for a 14-inch laptop.
You'll have to measure the hat that you want to ship to work out which option is best for you. After that, you can package your item and pay the appropriate postage for it.
Though the delivery process is pretty much the same with any company in any country, prices will vary.
Conditions will also vary, so you should find a reputable delivery company because you know that the hat you are shipping will be in safe hands in the mail.
How to ship a wide brim hat?
You will need to be very careful when shipping a wide brim hat because you don't want the brim (or any other part of the hat) to become squashed inside the box.
The first thing that you should do is buy a box wide enough to fit the hat inside without it being bent or forced in any way.
You can measure the hat and use the measurements to select the correct size box.
Then, package the hat depending on the material. For example, a straw wide brim hat will be a lot less durable than a hat made of wool, so it will need additional protection.
Wrapping it up carefully in tissue paper and then including some packing peanuts in the box as well will give extra protection.
Some hats, despite their wide brim, are crushable'. This means that no matter how the hat is squashed, it will always bounce back to its original shape.
The texture of the material will let you work out if the hat is crushable or not, and if it is then you'll be able to fold or flatten the hat down to securely package it.
Wide brim hats often come with other accessories as well. Any beads, tassels, or jewels will need to be protected during shipping because they may get damaged or fall off the hat.
You can use small sections of bubble wrap for those, or put the hat inside a poly bubble bag.
Can you ship a hat in a poly mailer envelope?
Poly mailer envelopes (also called poly mailer bags) are designed to be a lightweight yet durable way to ship things.
The envelopes are thin, so you can fit decently sized items inside, and they self-seal, which allows you to secure your items without needing extra tape.
Poly mailers are a less used form of packaging, but they have lots of benefits.
They are a great choice for shipping hats because they are so resistant. The polyethylene film of the envelope protects its contents from moisture, tears, and weather conditions.
Shipping a hat inside a poly mailer envelope will have it turning up in the mail looking as good as when you sent it.